Keeping fruits and veggies fresh is as easy as 1-2-3 1
No stretching, no pulling, just press down to create a snug seal that always fits.
Food Huggers hug more than just your leftover fruit and vegetable halves.
Your Questions Answered!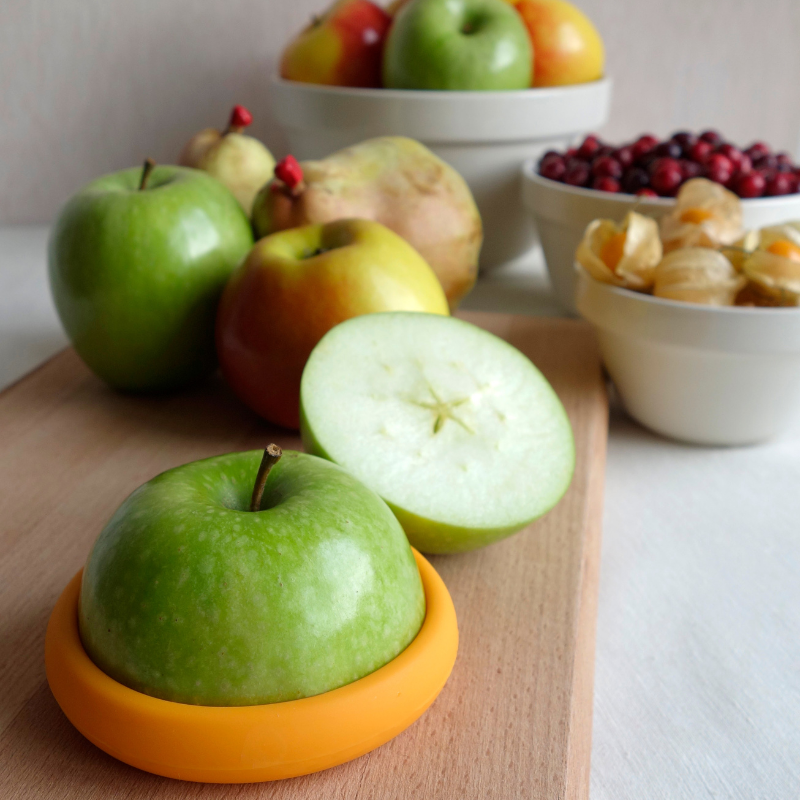 What are the Food Hugger® sizes?

Each of the five Food Huggers can fit fruits and veggies in a range of sizes. You do not need to have an exact fit as the Food Huggers fold themselves around your food snugly depending on its size.

The dimensions for each size Food Hugger® are:

MINI: 1.25" - 1.75"  banana, english cucumber

SMALL: 1.5" - 2.5" Limes, roma tomatoes

MEDIUM: 2.25" - 2.75" Lemon, tomatoes

LARGE: 2.5" - 3.5" apple, onions. Medium size can

X-LARGE: 3" - 4" Pepper, half grapefruit, large can, beefsteak tomato
Are Food Huggers® BPA free?

Yes! Food Huggers® are made from the highest quality silicone and always meet every quality standard for food safety.  They are 100% BPA & Phthalate free. We never use fillers and never take shortcuts. All our hugs are healthy hugs!
How Do I Clean My Food Huggers®?

Food Huggers are dishwasher safe. Just pop them in the dishwasher between "huggings" and they will come out clean and ready to go.  If you do not have a dishwasher, you can clean your Food Huggers by hand using the same methods and soaps that you use on other dishes and kitchen tools.
Do Food Huggers® hold onto smells?

It is unusual for a Food Hugger to absorb any odors.  However we have had a small number of customers who found themselves with a stubborn or lingering scent.  Our number one suggestion is to bake the smell out of your Food Huggers®. To do this, just preheat the oven to 350 degrees Fahrenheit, place your Food Huggers in the oven for about 20 minutes and the heat will remove any stubborn smell that might be clinging onto your Food Hugger.  We got this tip from The New York Times.  You can see the full article here.
Are Food Huggers® dishwasher safe?

Yes!  Food Huggers® are dishwasher safe making them as easy to clean as they are easy to use.
Food Huggers
Regular price
Sale price
$16.99 USD
Unit price
per
Sale
Sold out
Share
View full details